Kenneth Blom
The Artist studied at the Statens Kunstakademi in Oslo from 1990 to 1994, and the Düsseldorf Academy of Fine Arts (1994-1995). In 1996, Blom was acknowledged by Norwegian art historian, art collector and gallerist Haaken Christensen. This was a major breakthrough in his artistic career. "He called me after seeing my art at an exhibition at the Oslo City Hall, to offer me a solo show at his gallery," Blom recalls. "I remember shouting of joy. As a youngster, I often walked past Gallery Haaken in Lille Frogner Allé but never dared to enter."
Kenneth Blom is an internationally renowned artist, and has exhibited in Norway, France, Germany, Denmark, USA, Austria, Switzerland, Greece and UK. He collaborates with many highly acclaimed galleries, such as Jason McCoy Gallery in New York and Pekin Fine Art in Beijing, and his artworks are sold at Sotheby's London and Dorotheum Vienna. Blom has also participated in various art fairs, including Art Karlsruhe, Art Athena, Art Kong. Art Basel and many others. In 2021, Hans Irek issued a monograph that outlines Blom's artistic career, titled "Kenneth Blom – a Survey."

---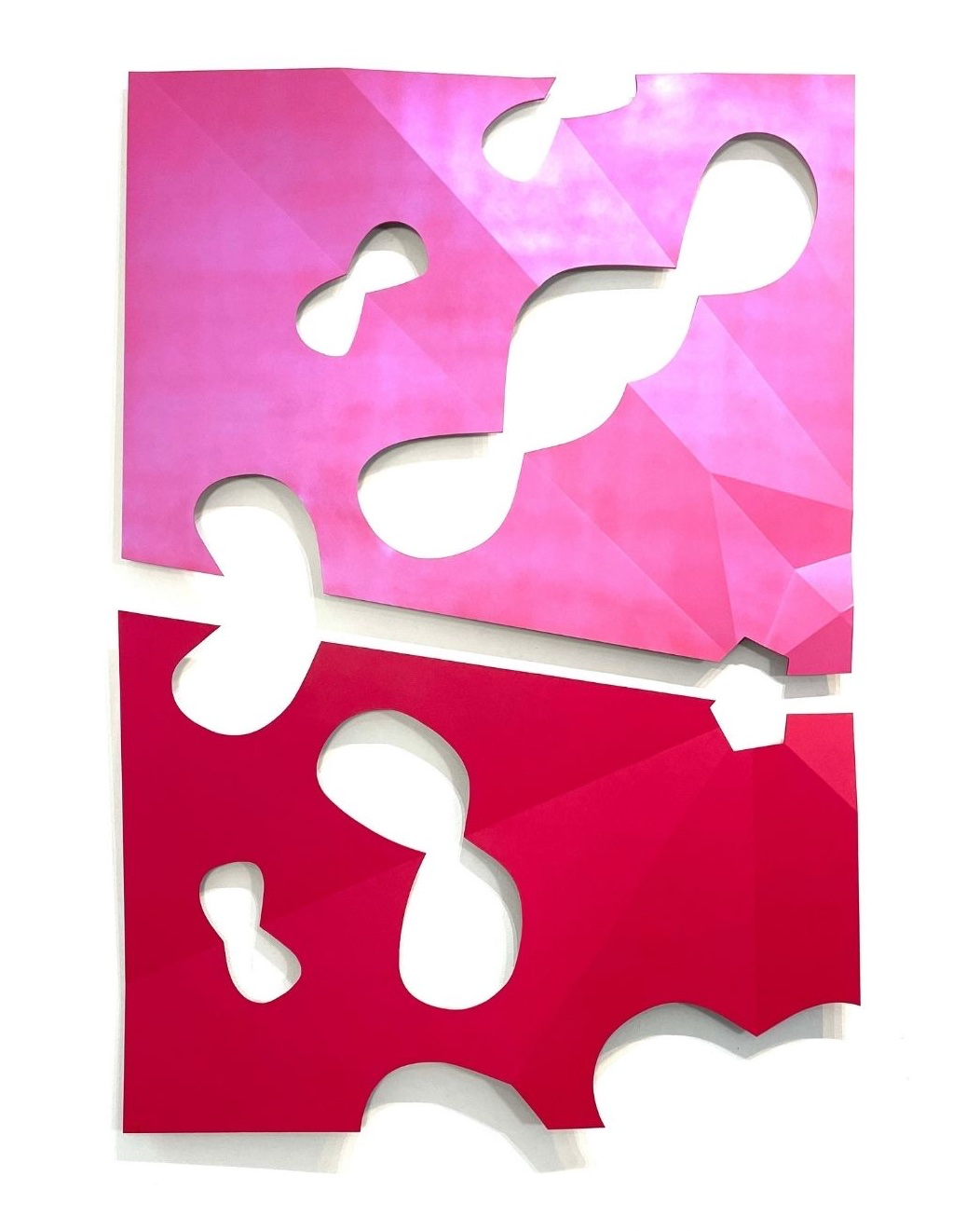 Bounoure & Genevaux
The artists duo Bounoure & Genevaux are a work and life pair based in the south of France, and they have developed an original work based on the fold and the cut in the color.
In their design as well in their gestural expressiveness, Bounoure&Genevaux are guided by their cultural background as architects, sensitive to the identity of landscapes. Their large format artworks, whether designed for indoor or outdoor use, are made of durable and long-lasting materials. The couple, modern and loving, works in sync in their modern architecture workshop, facing the Mediterranean Sea.
Their talent has been hailed by critics and institutions: they first received the Art Prize from the city of Strasbourg for their solo show at the international fair of contemporary art in 2020, then they were invited by the magazine l'Officiel to exhibit in the Villa Galaxie in Cannes in 2021 during the Biennale de l'Estérel. In 2022 they obtained the patronage of Buesa with the support of Mécènes du Sud and the French Ministry of Culture.
---
Maike Freess
Born in Leipzig, Germany in 1965. She studied at Hochschule für Grafik und Buchkunst Leipzig, Germany from 1980-1985. From 1986-1990, she studied with Prof. Inge Götze at the Kunsthochschule at Burg Giebichenstein Halle/Saale, Germany, and obtained her master's degree from the same institution in 1990 . She also studied at Ecole Nationale Supérieure des Beaux-Arts Paris with Multimedia atelier Christian Boltanski from 1991-1992, and taught at Ecole des Beaux-Arts, Le Mans, France in 1997. Currently, Maike Freess lives and works in Berlin and Paris.
Maike's artworks have been exhibited internationally at various accredited institutions, including the Ludwig Collection in the Ludwig Museum in Koblenz, the Fondation Maeght in Saint-Paul de Vence (France), the Von der Heydt-Museum in Wuppertal, Germany, Musée d'Art Moderne et Contemporain (MAMCS) in Strasbourg, the Museum of Contemporary Art in Osaka (Japan), the Von der Heydt-Museum in Wuppertal and Kunstfonds, the Staatliche Kunstsammlungen in Dresden and many others.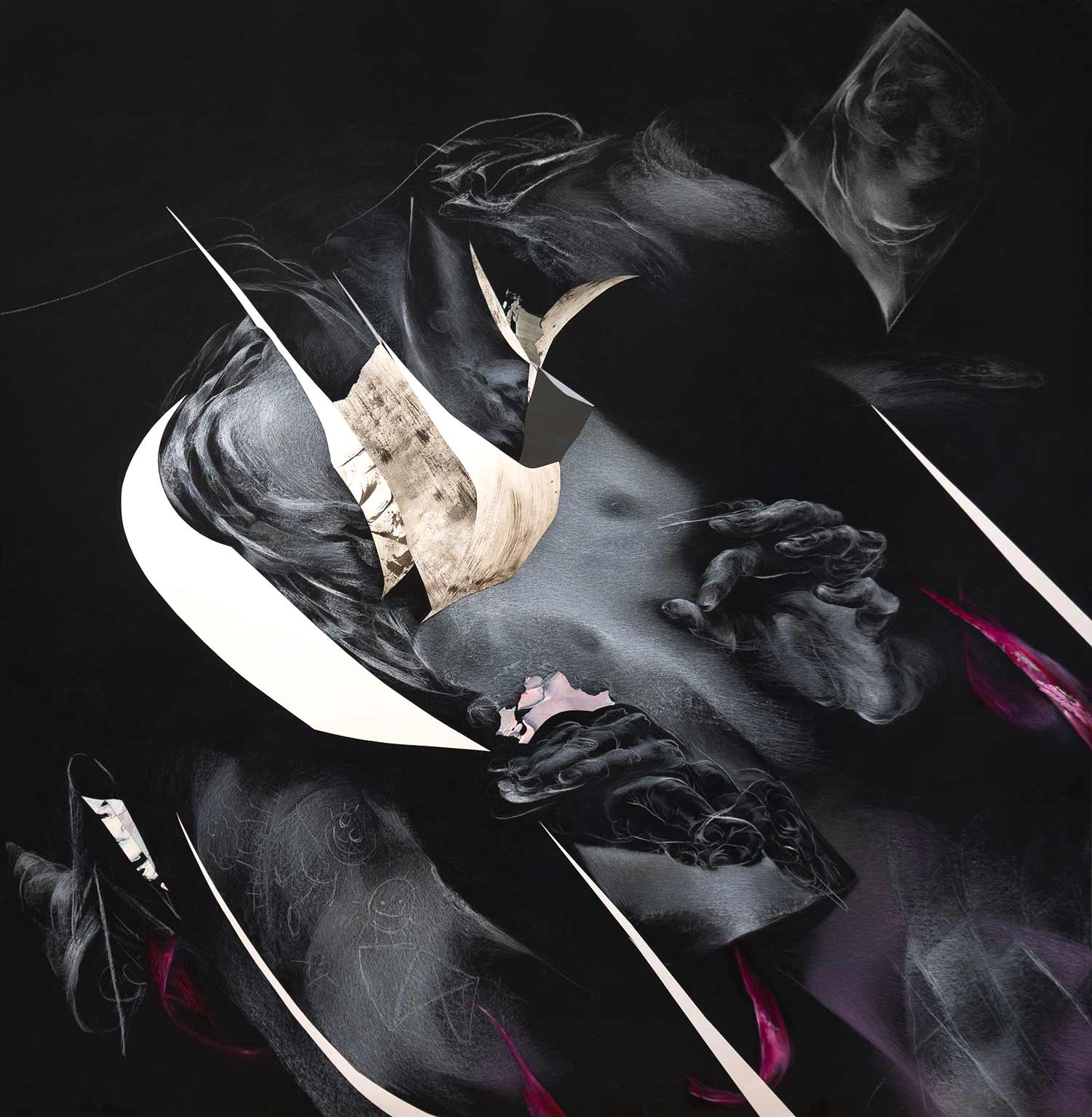 ---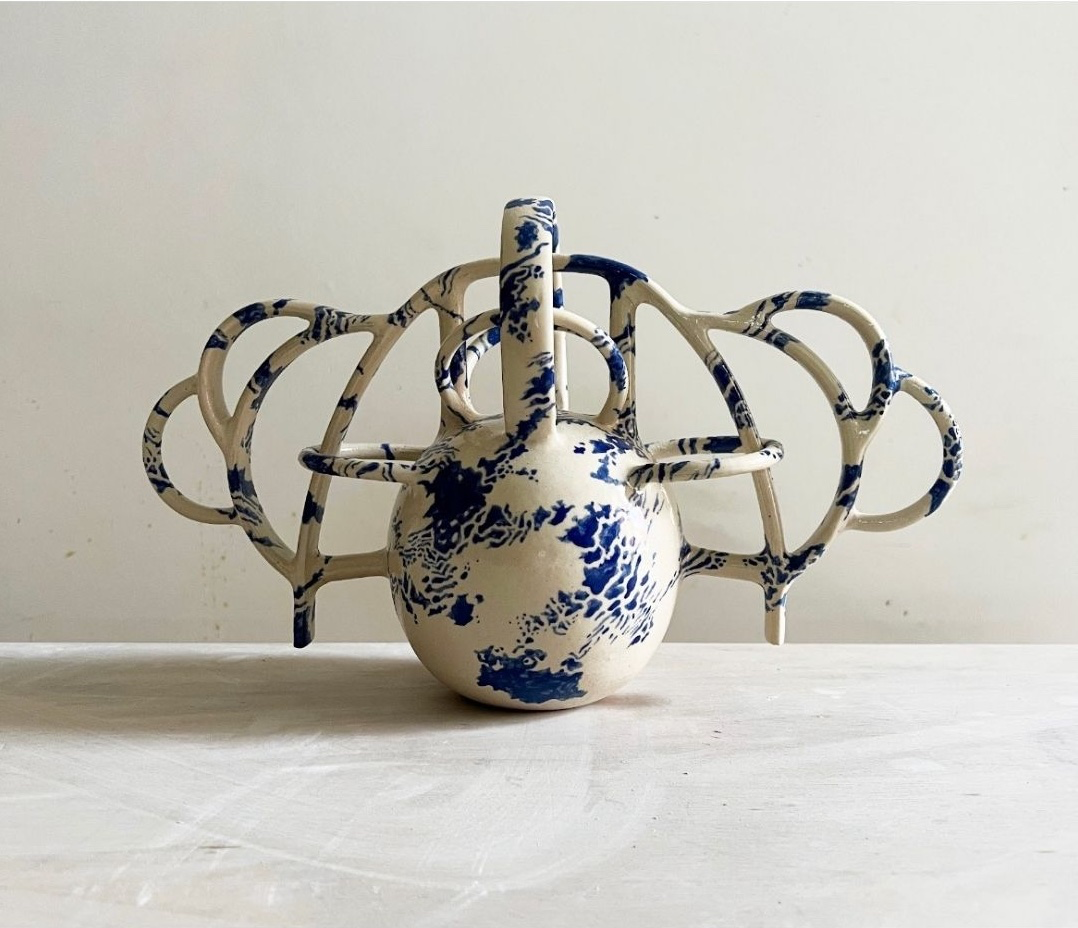 Aniana Heras
Born in the Spanish countryside, Aniana Heras received an education in Arts and Design in Madrid. Moved to Berlin in 2011 she worked as a designer and creative for more than 15 years before starting to work with clay. Craving more creative freedom, she was in seek of experimentation in the non-digital world and exploration of three-dimensionalities and tactile presence. For Aniana the clay is, first of all, a way to connect to her inner self and stay present. At the core of her practice lies a fascination with the semantics of art and design, and a deep commitment to mindfulness and grounding.
Her art is deeply connected with traditional Spanish pottery from her region. Through the interplay of form, texture, and color, are born the pieces that are both visually striking and emotionally resonant. They explore the balance between form and function, architectural and sculptural. "My work is both inspired by traditional Spanish pottery as well as by contemporary art and design", says the artist. Through her work, viewers are invited to contemplate the beauty and complexity of the world around us, and to explore their own connection to the mind worlds.
---
Marion Mandeng
Studied at Saint Martin in London through her career Marion Mandeng was on the shortlist for several international art awards.Her work focuses on human behavior to highlight what she considers persistent discrimination in society. Marion uses sexual objects as proxies for gender disparity as a fundamental cause of inequality bringing greater urgency to the debate about discrimination. Her practice reflects her experience as a woman and mother of three daughters. The Me Too movement has served as a reminder that society continues to struggle with gender conflict. The resolution of this conflict would lead to establishing more of a level playing field among all members of society, greater inclusion, fairer competition, and bringing higher utility for society as a whole.
Marion draw on Sigmund Freud's psychoanalysis to frame the causes of human behavior rooted in sexuality. The objects are often shown in large numbers, which refers to the notion of repetition as a pointer to Freud's analysis of resolving conflict. Repetition is a psychological phenomenon in which a person repeats or enacts an event multiple times that is often associated with a traumatic incident or fear. The soft body sculpture combines a female and male body to symbolize the interdependence between man and woman. The pins on the female's breast and vagina illustrate the protective measures women require amid abuse by society.
---
Elisabeth Masé
Born in Basel and grew up in Basel, Willisau, Birsfelden and Rünenberg. She studied at the Basel University of Art and Design, HGK/FHNW. From 1984 to 1997 she taught painting and drawing at the HGK/FHNW and in 1994 as a guest lecturer at the State Academy of Art in Oslo and from 1984 to 1997 as a lecturer at the Basel School of Art and Design. 1985-86 Studio grant from the Canton of Basel-Stadt at the Cité Internationale des Arts in Paris. 1986 three-month stay in India. 1987 Swiss Federal Art Prize. 1987, 1988, 1989 Kiefer-Hablitzel Prize. 1992 Rheinbrücke (today Manor) Art Prize Basel.
Since 1996 she lives and works in Germany, since 2012 in Berlin. She has exhibited in well-known museums and art associations in Europe and the U.S., including Kunsthalle Palazzo in Liestal, Halle Sud in Geneva, Kunsthalle Basel, Musée d'Art et d'Histoire, Neuchâtel, Switzerland; Kunsthalle Bielefeld and Bielefelder Kunstverein; MARTa Chapel and Museum MARTa, Herford; Kunstverein Synagoge, Oerlingshausen, Kunstverein Moabit/Galerie Nord and Kunstquartier Bethanien, Berlin, Germany; Trieste Contemporanea Studio Tommaseo, Trieste, IT; Herbert F. Johnson Museum of Art, Ithaca, New York, US.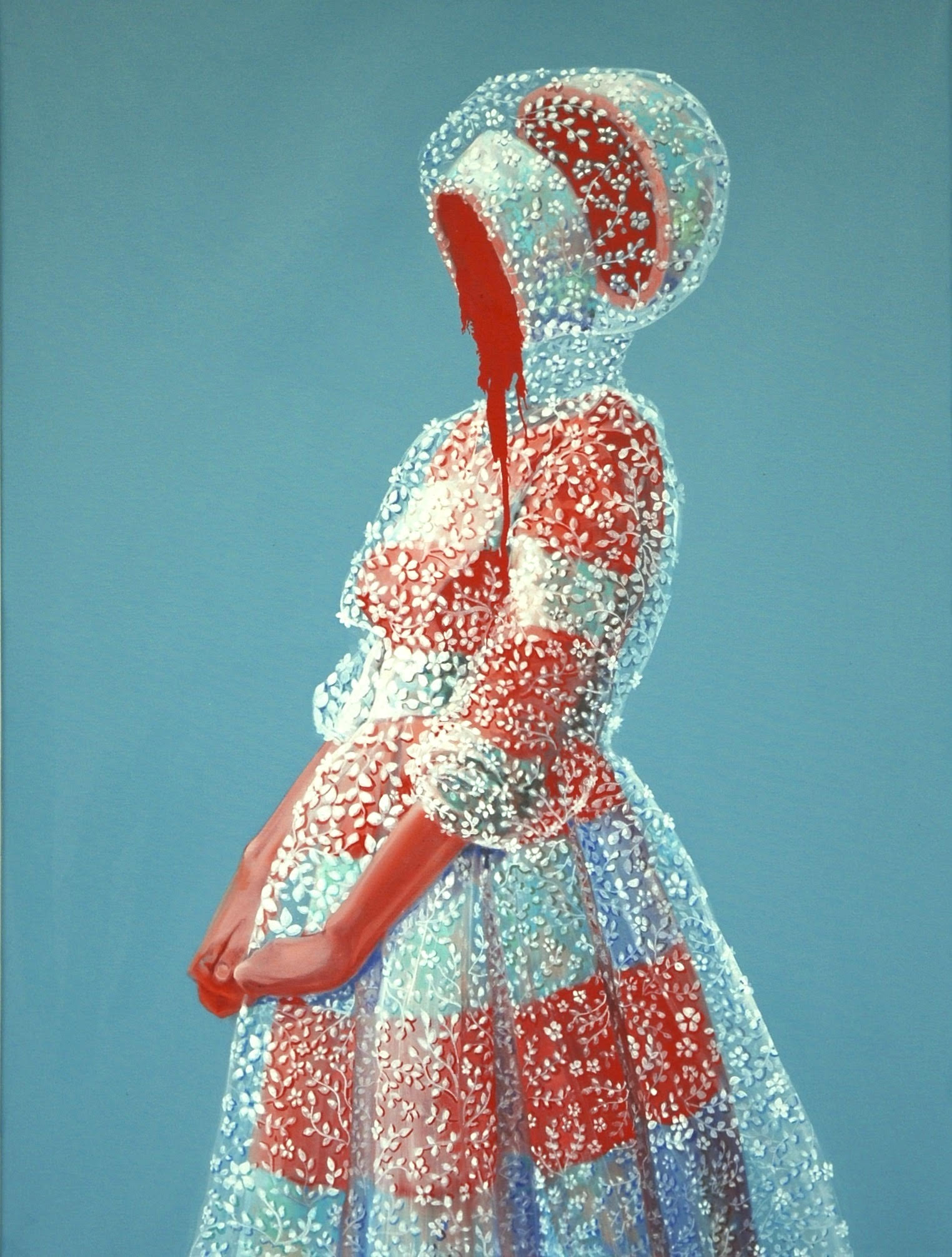 ---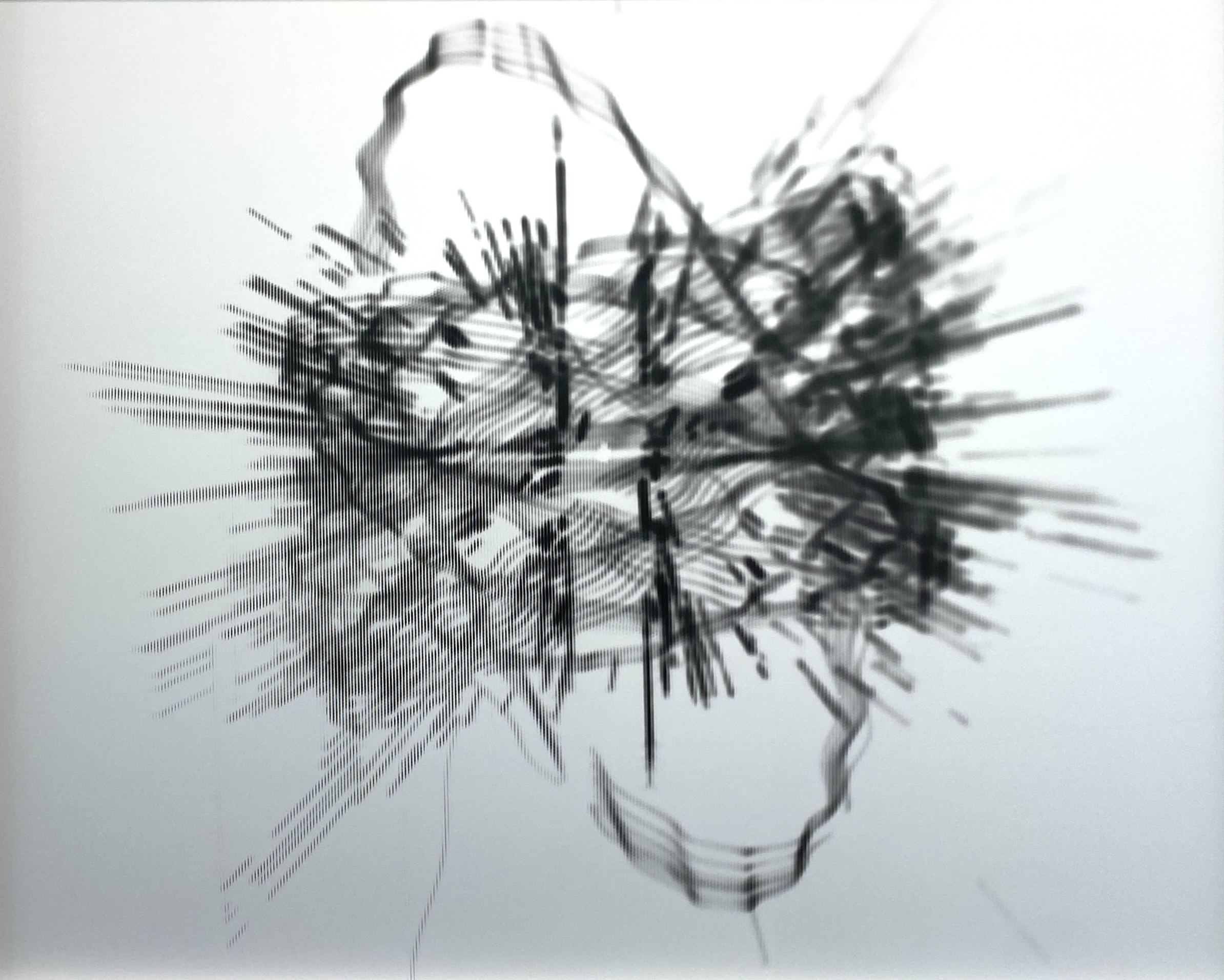 Antti Pussinen
She is a multidisciplinary sound and visual artist and is currently working in Berlin, Germany. Antti Pussinen's artistic practice draws attention to the under-tones of contemporary society through technology. In his work, he remediates the physical, using digital and analog technology to interpret phenomena in nature and the universe.
From spatial installations to NFT pieces, Pussinen's work translates abstract concepts into visible forms. Some of his latest research explores the boundary between wave physics and the real world using sound and waveform imaging.
---
Art Karlsruhe 2023
Bounoure&Geneveaux, Maike Freess, Aniana Hers, Marion Mandeng, Elisabeth Masé, Antti Pussinen, Kenneth Blom
3th-7th May 2023
Messe Karlsruhe,
Halle 4, Stand P04
Solo Show Session:
Kenneth Blom
---