OtherNetwork – eine neue Plattform, die freie Kunsträume auf der ganzen Welt digital vernetzt – ist jetzt online. OtherNetwork verleiht Kulturinitiativen Sichtbarkeit, die jenseits der etablierten institutionellen Strukturen angesiedelt sind. Das Projekt, initiiert vom ifa – Institut für Auslandsbeziehungen in Kooperation mit dem Design- und Architekturstudio Cookies, zählt derzeit bereits Hunderte von selbstorganisierten kulturellen Projekten, die von Communities in Subsahara-Afrika ins Leben gerufen wurden. Ab April haben nun unabhängige Kunst- und Kulturräume weltweit sowie Künstler:Innen die Möglichkeit, sich zur Datenbank hinzuzufügen.
OtherNetwork macht kreative Kooperationen sichtbar, die sich zwischen Künstler:Innen, Kurator:Innen und Kulturproduzent:Innen in meist organischer Form herausbilden. Neben einer umfangreichen Datenbank bietet OtherNetwork auch in Auftrag gegebene redaktionelle Beiträge, nutzergenerierte Veranstaltungshinweise sowie verschiedene Satellitenevents in ausgewählten Partnerstädten. Ein weiterer Teil des Projekts ist eine als Tourneeausstellung konzipierte Ausstellungsreihe, die bereits 2022 in der ifa-Galerie Stuttgart startete.
ONLINE PLATFORM
Die Plattform OtherNetwork wurde konzipiert, um für jede Stadt automatisch eine Visualisierung der Daten des Netzwerks zu generieren und darzustellen, wie sich dieses im Laufe der Zeit verändert. Obwohl jeder einzelne Raum in einem spezifischen Kontext verankert ist, verfolgt OtherNetwork bei der Datenvisualisierung einen fließenden Ansatz, der auf geografische Verweise verzichtet und die Nachteile der konventionellen Kartierung umgeht.
Auf der Plattform können die Nutzer:Innen in Kürze auch Veranstaltungshinweise hinzufügen. OtherNetwork wird so zu einer aktiven und stets aktuellen Ressource und wirft ein Schlaglicht auf kulturelle Programme, die in unabhängigen Projekträumen weltweit zu entdecken sind. Die Plattform wurde von einer internationalen Gruppe von Kooperationspartner:innen entwickelt und startete mit Research in Accra, Johannesburg und Kinshasa. Programmierung und Design der Website wurde vom Pariser Designstudio F451 gemeinsam mit Entwickler Geoffrey Oliaro in Nairobi realisiert.
EDITORIAL PROJECTS
Über die Visualisierung der Datenbank hinaus gibt OtherNetwork redaktionelle Beiträge in Auftrag, um das Verständnis für unabhängige kulturelle Produktionen in unterschiedlichen Kontexten zu vertiefen. Eine erste Essayreihe mit dem Titel Interdependence erscheint in Kollaboration mit e-flux Architecture. Die Serie befasst sich mit ausgewählten Projekten und Räumen in urbanen Zentren in Subsahara-Afrika, etwa das Centre for Contemporary Art Lagos, die Keleketla! Library, Terra Alta, die Foundation for Contemporary Art–Ghana und weiteren.
Alle Texte werden außerdem in einer von den jeweiligen Autor:Innen gewählten Sprache veröffentlicht, um sie für Leser:Innen vor Ort zugänglicher zu machen. Weitere Inhalte werden in den kommenden Monaten über Other-Network und seine Partnerorganisationen online gestellt, darunter auch ein Podcast, der aktiv dazu beitragen soll, weitergehende Verbindungen zwischen unabhängigen Kulturschaffenden aufzubauen.
FUTURE AMBITIONS
OtherNetwork hat sich dem Ziel verschrieben, ein Forschungs-Tool für Kurator:innen, eine Gelegenheit zum Networking für Künstler:Innen und vor allem ein Ort zu sein, der freien Projekten, die außerhalb des etablierten institutionellen Rahmens angesiedelt sind, Sichtbarkeit verleiht. Das Kernforschungsteam der Plattform expandiert dieses Jahr über den afrikanischen Kontinent hinaus, um Veranstaltungen und Forschungsprojekte in neuen Städten in Südamerika durchzuführen, darunter Santiago, Bogotá und São Paulo.
Während die Plattform größer wird und ihre Community anwächst, ist das Ziel, ein Werkzeug zu etablieren, das Kurator:innen und Kulturproduzent:Innen weltweit unterstützt und als Anlaufstelle für Finanzierungsmöglichkeiten, Stipendien und potentielle Möglichkeiten der Zusammenarbeit dient. Im Oktober 2022 war die ifa-Galerie Stuttgart die erste Station einer Tourneeausstellung, die von der Foundation for Contemporary Art–Ghana kuratiert wurde und die Arbeiten von sechs Künstler:Innen aus Accra präsentierte. In diesem Jahr realisiert ein weiterer Kunstraum eine Ausstellung bei FCA Ghana in Accra, um später Fortsetzung an weiteren Orten zu finden. Besuchen Sie uns!
---
Künstlerische Leitung, Konzept & Produktion:
Cookies (Federico Martelli, Alice Grégoire, Clément Périssé) mit Colin Keays
Researchteam:
Samantha Modisenyane, Abraham Tettey, Lucille de Witte
Konzeption der Website, Design & technische Umsetzung:
F451 (Quentin Creuzet und Domitille Debret), Geoffrey Oliaro
Redaktion:
Colin Keays
Grafikdesign:
F451 (Quentin Creuzet und Domitille Debret)
Projektleitung:
ifa (Nina Frohm und Laura Wünsche)Zusätzliche Partnerorganisationen: Stimuleringsfonds, Between Bridges Foundation
---
Tragen Sie sich hier in unsere Mailingliste ein. OtherNetwork ist ein Projekt des ifa – Institut für Auslandsbeziehungen in Kooperation mit Cookies.
---
EN: OtherNetwork
ifa and Cookies invite independent art spaces to join OtherNetwork, a collaborative digital platform that connects cultural projects worldwide. OtherNetwork – a brand new platform that connects independent art spaces through digital infrastructure – is now online. OtherNetwork provides visibility for art spaces from across the world that exist outside of mainstream institutional frameworks. The project by ifa – Institut für Auslandsbeziehungen in collaboration with Cookies, already features hundreds of self-organized cultural projects that are strongly rooted in communities across sub-Saharan Africa. From April onwards, independent artist-initiated spaces and artists anywhere in the world can add themselves to the database.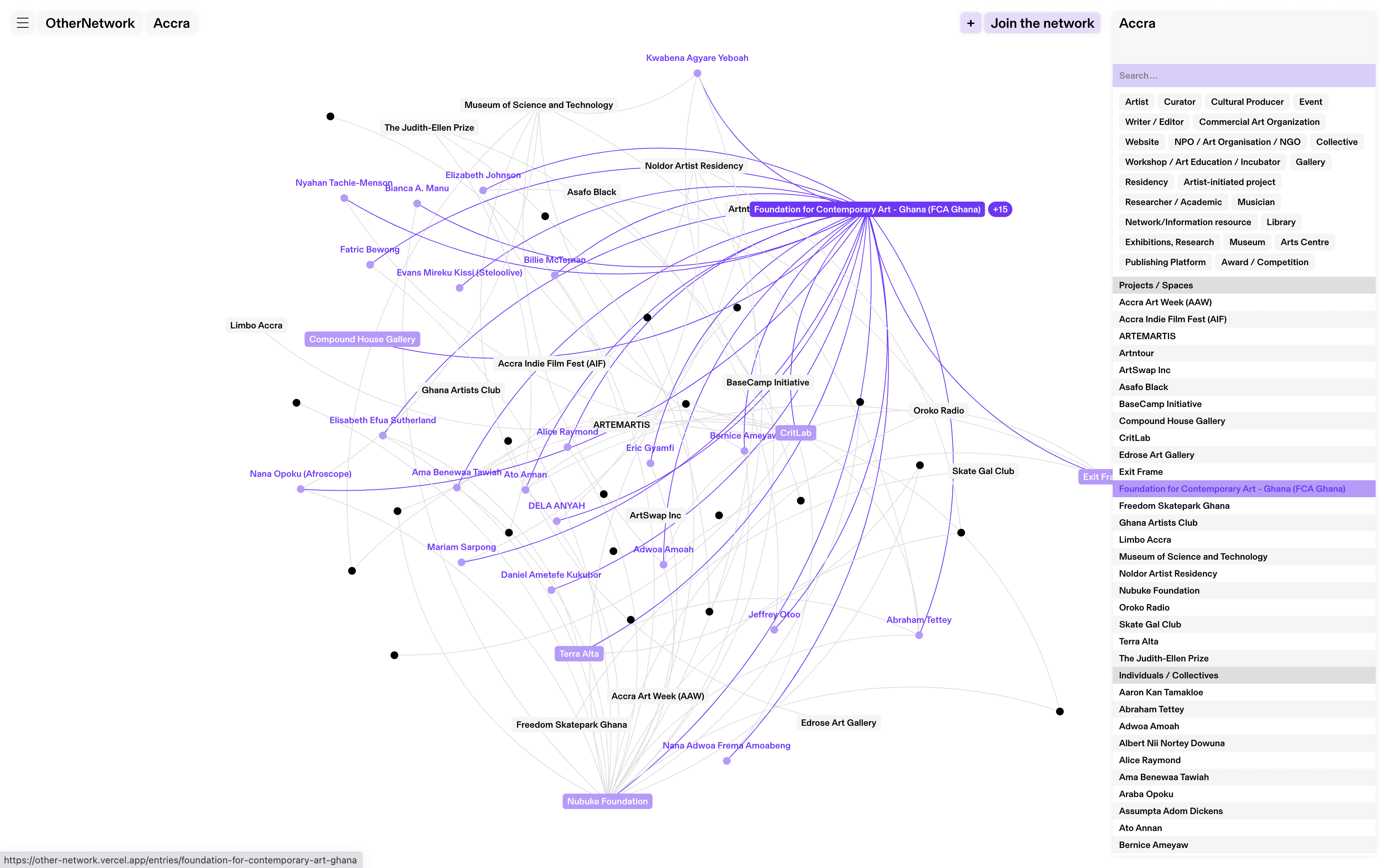 OtherNetwork visualizes some of the many creative collaborations happening organically between artists, curators and cultural producers that make artistic programming possible in a diverse range of contexts. Alongside its extensive database, OtherNetwork includes specially commissioned editorial content and user-generated event listings, various satellite events hosted in selected partner cities worldwide and the continuation of a traveling exhibition that began at ifa Gallery Stuttgart in 2022.
ONLINE PLATFORM
The website has been developed to automatically generate a data visualisation of the network for each city as it changes over time. Although each individual art space is grounded in a specific context, OtherNetwork takes a fluid approach to data visualisation that eschews geographical referencing and the limitations of traditional mapping.
The platform also aims to become an active and up-to-date resource that spot-lights cultural programming in independent spaces worldwide by allowing users to add their own event listings. The platform has been developed by an international group of collaborators and started with research in Accra, Johannesburg and Kinshasa. The web development and design of the website was realized by the Paris-based design studio F451 together with developer Geoffrey Oliaro in Nairobi.
EDITORIAL PROJECTS
OtherNetwork commissions original editorial content that deepens an understanding of independent cultural production in different contexts. A first series of essays titled 'Interdependence' is being co-published in collaboration with e-flux Architecture, focusing on selected projects and spaces based in urban centres across sub-Saharan Africa including Centre for Contemporary Art Lagos, Keleketla! Library, Terra Alta, Foundation for Contemporary Art–Ghana and more.
Each of the texts will be re-published in a language of the author's choice, making them more accessible to local audiences. Additional content will be released over the coming months through OtherNetwork and its partner organizations, including a podcast that will build further connections between independent cultural practitioners.
FUTURE AMBITIONS
OtherNetwork has ambitions to become a research tool for curators, a networking opportunity for artists and fundamentally a place for independent spaces existing outside of mainstream institutional frameworks to gain visibility. This year, the core research team will expand beyond the African continent to host events in new cities across South America, including Santiago, Bogotá and São Paulo.
As the platform and community around it grow, OtherNetwork hopes to become a supportive tool for curators and cultural producers worldwide as a go-to source for funding opportunities, grants and speculative opportunities for collaboration. In October 2022, the first leg of a traveling exhibition took place at ifa Gallery Stuttgart as part of OtherNetwork, bringing together the works of six artists from Accra, guest curated by Foundation for Contemporary Art – Ghana. Later in 2023, this journey will continue in the form of a relay to Accra, before heading to several other cities worldwide. Visit the plattform.
---
Art Direction, Concept & Production:
Cookies (Federico Martelli, Alice Grégoire, Clément Périssé) with Colin Keays
Research Team:
Samantha Modisenyane, Abraham Tettey, Lucille de Witte
Website Conception, Design & Technical Realisation:
F451 (Quentin Creuzet and Domitille Debret), Geoffrey Oliaro
Editor:
Colin Keays
Graphic Design:
F451 (Quentin Creuzet and Domitille Debret)
Project Management:
ifa Visual Arts Department (Nina Frohm and Laura Wünsche)
Additional Project Partners:
Stimuleringsfonds Creatieve Industrie, Between Bridges Foundation
---
Subscribe to the mailing list. OtherNetwork is a project by ifa – Institut für Auslandsbeziehungen in collaboration with Cookies.